Celebrate Your Festivals With Colours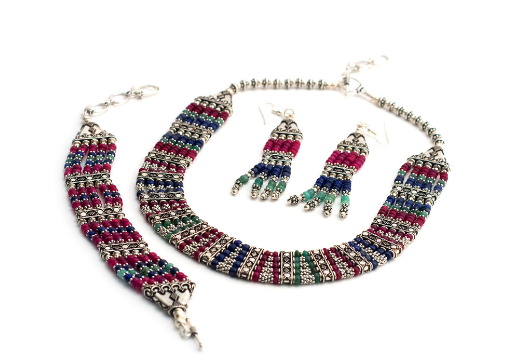 India is a land of fairs and festivals. Celebrations in our Indian culture revive life and joy from every corner. Such beautiful festivals are celebrated with the joy of colours. You can ensure the same brilliance of colours with your jewellery during these festivals. With love and gratitude towards mother nature, the best collection of jewellery designs are incarnated with natural objects for your celebrations.
This festive season, adorn the colourful jewellery that will pick the vibes of the harmony and joy for your attire. Check these unique sets that can spread colours and rejoice!!
#1. The Effervescence Necklace 
Beautifully crafted with unique styles of tradition, this effervescence necklace is a virtue of joy and bliss. The iridescent colours make your attire effortless and glowing. It is a blissful combination with Rose Spinel Stones, Blue Spinel Stones, White Spinel Stones, and Green Spinel Stones, reflecting the glow and radiance. You can match it with your ethnic, traditional as well as indo-western attires for this kites festival.
 #2. The perfect Morning Glory Earrings
Festivals cannot be passed by without the colourful sights all along. Embrace the morning skies with the perfect morning glory earrings. They are beautifully crafted with Blue Spinel Stones, Red Spinel Stones, and Pearls enhancing their beauty. The balancing blue and white hues are stunned with the red glory to charm the look!
 #3. The Flawless Honey Comb Necklace
If you are picking a traditional saree or anarkali to stun your look, then you can have a perfect combination of classic designs and colours with this honeycomb necklace. The intricate design of the necklace is much highlighted with the pink and blue hue stones. The stunning combination of Red Spinel Stones, Green Spinel Stones, White Spinel Stones, Pearls, and Blue Beads adds up the effortless radiance to your attires.
Where to Buy?
Now, worried about where to buy these stunning pieces of colours and beads? Do not worry; Divas Mantra has got you covered with a perfect peace lily collection to enchant the colours. Check here for the more amusing collection of necklaces, earrings and bangles!
You might have seen a traditional woman carrying the responsibility of family with grace, handling every chore within the household. She is magnifi...
Read more
It is all a new routine, a routine that requires a face mask everywhere you travel. Masks have been an inherent element of every ensemble when leav...
Read more