Best Bridal Jewellery That Every Bride-To-Be Must Check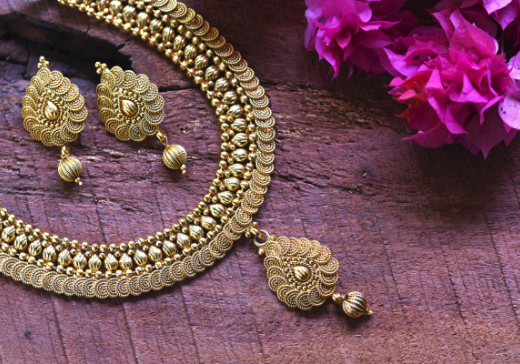 If arranging everything for the wedding is one progressive step, picking the right jewellery is equally progressive to spend time on. Bridal jewellery is not a cakewalk as it sounds to be. It consumes a lot of your time, value and mind to check in the best jewellery. The jewellery you choose to wear and how you choose to pair them is definitely a tricky task. You ought to fully understand the diverse types of Indian bridal jewellery to match them up. 
Again, you can choose an all-decked jewellery look for a wedding or go with the recent minimal styles. So before you start checking for the bridal jewellery, know these best bridal assets you must check-in for!
#1. The everlasting choker necklaces
Whether it is a Kundan style or Polki style, the long enchanting choker necklaces must be worn during the wedding celebrations. You can pair them up with your lehenga or saree on any of the occasional days. It gives a very royal feeling to the wedding attire's look and is quite famous for their grandeur nature.
#2. Layered long and loud Earrings
Earrings are the magical pieces that transform any look from the casual to the formal in an instant. Do you know that brides often have a great collection of earrings in different shapes and sizes? There is a saying that "one cannot be a bride without a jhumkha!" Nonetheless,  the versatility of plain bands, large studs, hoops and chandelier earrings are stealing the bridal scenes these days.
#3. Wedding without a Maang Tika is unimaginable
If we are talking about Indian weddings, then Maang Tikka owns its place. They have got a lot of importance, especially on the day of the wedding. The dangling end of Maang Tikka is beautifully intricated with a lot of flawless designs and pendants in recent days. Maang tikka plays a vital role in the head jewellery of the wedding and is a must-to-add part!
#4. Armlet is a stunning hand jewellery piece that cannot be pushed
Yes, apart from the rings, bangles, and bracelets you pick for the hand jewellery, armlet has its own special importance. It is worn a little above the elbow and is a fine piece of jewellery intricately designed for comfort and look. Although it is not included in the must-to-be jewellery of the wedding, it is still definitely worth a try for a magnificent look.
#5. The waving flows of kamarbands
The completeness of the wedding look is only seen with kamarbands. The intact holding of the heavy lehenga or stunning saree is all done by kamarbands. It lends a very delicate grace with its simple and ravelled design to the wedding occasion. From simple to loud, kamarbands can be seen in many sizes, shapes and designs, and you can easily find one matching your wedding attire.
If you are looking for the best inspirations for your wedding jewellery, then you can take a look at the Divas Mantra Aniha collection. The precious and perennial collections of Mathuram, Nabah, Navras will make you pick the best jewellery for your wedding!!
You might have seen a traditional woman carrying the responsibility of family with grace, handling every chore within the household. She is magnifi...
Read more
It is all a new routine, a routine that requires a face mask everywhere you travel. Masks have been an inherent element of every ensemble when leav...
Read more