Easy Ways To Include Ethnic Jewellery Into An Everyday Look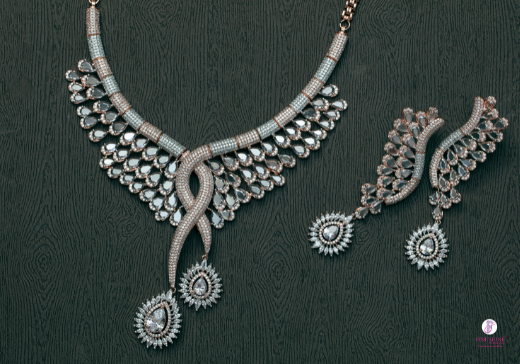 No matter what your wardrobe style is, ethnic jewellery is a must-to-be-seen part. In this 21st century, undoubtedly, our wardrobes are most filled with modern and western outfits. They are both comfortable and functional. But matching up these western attires with ethnic jewellery is the twist for the glory.
We usually separate the ethnic jewellery for occasional and festive purposes to match heavy traditional and ethnic attires.  If you have been doing the same, then it's time to step out of it. You can take out all your ethnic jewellery and pair it with your casual western wear.

Do not worry! We just came up with a few easy ways to include ethnic jewellery into your everyday look!
#1. Pair up quirky and stunning earrings with a shirt-and-jeans outfit
If you own a stunning collection of silver earrings with beautiful stones studded in, then you have got almost a new pair of earrings for every occasion. They are not meant to be worn only for traditional and ethnic wear; you can flawlessly match them up to your casuals as well. You can wear them for shirt-and-jeans, maxi dresses, tank tops and kurta-leggings.
 #2. Wear the long striking pendant chains with every kind of tops
Whether it is a crop top, collar top or cape top that you picked up for your jeans or skirt, you can always rely on the silver pendant chains. The long striking ensemble they provide will make your attire unique and fashionable. You can spruce up the look by wearing your favourite silver chain with the outfit.
#3. Statement Necklaces for White Shirts is a beauty not to be missed
Do you have a great collection of white shirts? And do you love to pair a white shirt for every occasion with a skirt, jeans and leggings? Then you are exactly on the right page to choose the perfect jewellery for your white love. You can pick a perfect silver statement necklace for your every white shirt.
 These are several ways to make ethnic jewellery part of your everyday lifestyle with minimal effort. Just pick the pace and experiment endlessly with your silver jewellery to find your right one. You can also let us know how you style traditional Indian jewellery with modern outfits!!
You might have seen a traditional woman carrying the responsibility of family with grace, handling every chore within the household. She is magnifi...
Read more
It is all a new routine, a routine that requires a face mask everywhere you travel. Masks have been an inherent element of every ensemble when leav...
Read more