Fill Your Collection With Designer Handcrafted Jewellery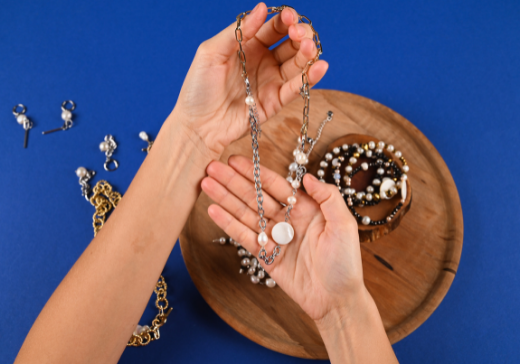 Usually, handmade and handcrafted are regarded as synonymous in most scenarios. With the recent rise in jewellery trends, it is even more confusing to understand what handmade or handcrafted jewellery means. Before we try to differentiate them, let's understand what exactly handcrafted jewellery is.
It is quite common that handmade jewellery is designed and developed with humans' hands with no or less interference from machines. In contrast, handcrafted jewellery is hand-finished jewellery. The handcrafted jewellery can be created in any manner, but the entire process is ended with human craftsmanship, which adds up the value and intensity to the design. Maintaining the factors like glory, design and sturdiness of the jewellery is considered equally important in Handcrafted jewellery. It stands high due to the perfect composure of all these factors.
Witness the best examples of handcrafted jewellery and add these best pieces to your jewellery collection.
#1. Intricately handcrafted half moon necklace
The stunning heavy design of beads, pearls, and stones on the pendant carves it a marvellous jewellery piece for multiple occasions. And the flowing pearls chains across the pendant makes it a beautiful chain-pendant necklace. The beauty of handcrafted jewellery is flawlessly shown in its intricate design!
 #2. The exquisite Darpana Bangles
If you are still thinking about handcrafted jewellery, then you should witness the beauty of these bangles. The rich endeavour spread across with handcrafted bangles can never be compared with the machine pressed ones. The flowing designs and carefully crafted stones will amplify the beauty of every attire it is coordinated with.
 #3. The enchanting Divas Mandala Earrings
A unique piece of craftsmanship will shine your earrings and completes your perfect ethnic attire. One such magnificent piece is Divas Mandala earrings set. The carefully planted stones on the earrings will shine endlessly with your attire and give you a stunning Diva look.
Handcrafted jewellery ensures you get what you paid for. Women's jewellery is not inexpensive, and putting in your greater amounts is totally worth it when it's handcrafted jewellery. You can find an amazing collection of handcrafted jewellery, whether it is earrings, necklaces, bracelets, bangles or anklets at Divas Mantra.
You might have seen a traditional woman carrying the responsibility of family with grace, handling every chore within the household. She is magnifi...
Read more
It is all a new routine, a routine that requires a face mask everywhere you travel. Masks have been an inherent element of every ensemble when leav...
Read more