5 Classy Style Mantras For Girls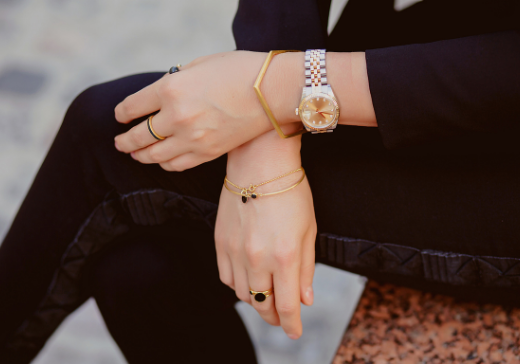 The trend cycle managed to last six months to a year before. But now fashion goes in and out of style in weeks. While the temptation to buy each passing trend is genuine, you can not let go of all your money on trends. To make you feel refreshed, we have come up with the trends that can last a little longer than you can imagine this year.
Whether it is a fashionable model, Indian custom style or modern chic designs, the fashion will retreat at some point. You can make yourself smile with your style still following the un-beaten trends!
Here are the five classy style mantras for girls to keep in check for your fashions!
#1. Bid bye to horizontal stripes and replace them with classy vertical stripes
If you are someone who loves stripes for your occasions, then change the routine by a bit. Replace them with vertical lines. They are both classy as well as elegant and fairly complements your curves. The best part is that these vertical stripes simply end up making you appear taller without making you look too sketchy!
#2. Welcome the choices of Denim jackets
The fashion of overcoats and shrugs is going high and low every instance. But, matching your everyday outfits with denim jackets will never fade away. They leave out a chic style with sassy looks for you. You can wear them to any occasion on any day!
#3. Wear Your Hair Long!
We doubt if this trend picked up due to the long break of the previous year. Every girl has got a reasonable amount of time to care for their hair and grow it longer. And yes, soon after the long break, you can see the styles of long healthy hairs going wild. So yes, try wearing your hair long and shiny.
#4. Complementing hand bracelets to skirts and shorts
Hand bracelets disappeared out of the blue in the last set of years. But, get all your bracelets out of cupboards now. Fashion is back and strong. You can pick matching or complementing hand bracelet that will match up your skirts and shorts.
#5. Opt for rectangular frame sunglasses
Of course, accessories always take your outfit style to the next level. On-trend articles like a square or rectangular frame sunglasses can make a simple outfit feel elegant. You can pick the shades that complement your skin tone and dress hues.
Have these simple yet high tren fashions in hand and never run out of ideas this year. Flaunt your styles with classy yet irresistible looks!
You might have seen a traditional woman carrying the responsibility of family with grace, handling every chore within the household. She is magnifi...
Read more
It is all a new routine, a routine that requires a face mask everywhere you travel. Masks have been an inherent element of every ensemble when leav...
Read more