Let Your Antiques Shine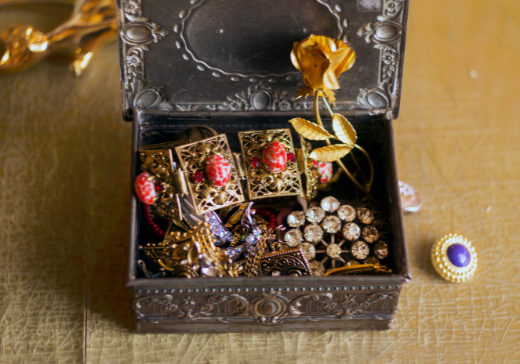 It is no secret that at Divas Mantra, we love the vintage styles and antique jewellery. Our collection best represents the love we have for them. Technically, a beautiful jewellery piece has to be at least a hundred years old to be considered an antique part. However, the term is often used to represent the grandeur of the designs. We fell in love with those triumphant designs and divine models.
When you buy an antique piece, it is unlikely that you will find such a one again. The ancient techniques of fine artistry make them rare and ensure that they are the best fit for your traditional and ethnic outfits. Here is the best combination of antiques that you can choose to shine your look!
#1. The high combination of Chand's and choker necklaces will fix every attire
Antiques are so unique and can make a simple piece look stunning with their colossal artwork. Now, imagine the great pieces of work with great beauty standing. Chand Balis are the best examples of such magnificent beauty. When paired with choker necklaces, they can flaunt the look in the best of ways.  You can match these beautiful pairs with sarees, gowns, indo-western and ethnic wear. 
#2. Contrasting coloured jewellery is making the best look ever
Wearing a combination of contrasting coloured outfits and jewellery is probably one of the best options. This coming wedding season, you can witness a lot about these trends all around. Not only are they different from the usual trends, but they also make your beautiful outfit stand out. Antiques studded with precious stones can clearly draw these contrasts for the outfits!
 #3. Antiques also set the best example for temple art jewellery
If you are looking for a great combination of temple art jewellery for your outfits, then you can quickly check one of the best antique jewellery available. They will help you pick the one you imagine. Antique jewellery has its own way in the temple arts. Their fine artistry makes them even more stimulating and enchanting.
With their outstanding value, better quality and unique designs, antiques are always considered the best investment for their value. They are even ethical and environmentally friendly and are loved for their unique patterns. Antique jewellery depicts the story of another time and place in the modern times. Let these antique pieces shine on you!!
You might have seen a traditional woman carrying the responsibility of family with grace, handling every chore within the household. She is magnifi...
Read more
It is all a new routine, a routine that requires a face mask everywhere you travel. Masks have been an inherent element of every ensemble when leav...
Read more