Discover The Perfect Jewellery That Fits Evening Parties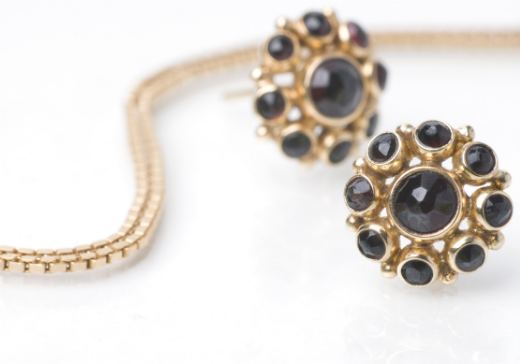 Evening parties are the best gatherings that will flaunt the light of Divas!! Now, apart from picking the perfect outfit for your party, there's something even more frustrating. Yes, it is about picking up the perfect jewellery to go along with the outfit. If western and indo-western are your options for your evening party styles, then jewellery is not an off for you. Instead, you can stun up your look with perfect options.
It's always good to have many choices, but too many can turn your dressing into something fearful. Picking the best out of many good options is not easy. Of course, the search for the best is more tiring than one can imagine. Every woman can relate to this struggle now!
Do not worry; we are here with some amusing easy combinations to fix up your challenge. Check out the easy tips to coordinate jewellery to the fullest!
#1. Gleaming patterns can be best matched with simple jewellery - Minimal styles
 A sparkling outfit for an evening party is an understatement. It is a must to shine through the night. But, loud and ornate jewellery will not go well with your shining outfit. Just pick the minimal style to flaunt your look. Think about solid bracelets, watches, and earrings instead of showy accessories or long chains for shining outfits.
#2. Go with statement earrings to highlight the face
Yes, we are discussing the outfits, but a lovely face will make it everything. If you intend to complete your look like the star of the show, then just pick a pair of statement earrings. The shining, bright pieces of metal will radiate your glow!
 Long and layered earrings can go well with your western wear with a hint of Indian touch.
#3. Warm jewellery and cool dress colours will go hand-in-hand
 You can make a great impression with the bright precious stones. Silver is a standard metal that goes well with most natural skin tones. But add the colours of rubies, amber and amethysts to make a statement look matching to your dress colours. You can even pick the colour of the gemstone to set up the look you want for the night. For instance, dark radiating colours for a bold look and warm calming colours for a relaxing evening.
#4. Stunning white pearls will beautifully go with sea-coloured clothes
 As the saying goes, "A pearl for every occasion!" is definitely true. Yes, pearls have a unique way to match up with every attire. Whether it is traditional, western or indo-western, pearls can amplify the beauty in every way. As pearls are found in water, they especially compliment those shades of colours found in the sea, like light shades of grey, sea gems, blue and violets. You can match your sea shades with pearls!
#5. Pick radiating hand accessories for unique sleeves
 No matter which sleeves you pick, hand jewellery will suit up with them. You can add a stack of rings or bracelets based on the length of the sleeves of your outfit. You can just add up rings if you picked up long sleeves covering your hands till wrists. Any length shorter, you can choose a stunning bracelet to bright up the radiance.
Turn your outfit into something special for your special occasions. Coordinate your jewellery with your dresses and make a stunning impression!!
You might have seen a traditional woman carrying the responsibility of family with grace, handling every chore within the household. She is magnifi...
Read more
It is all a new routine, a routine that requires a face mask everywhere you travel. Masks have been an inherent element of every ensemble when leav...
Read more